Monitoring Places of Detention (OPCAT) Bill 2022 (QLD)
February 6, 2023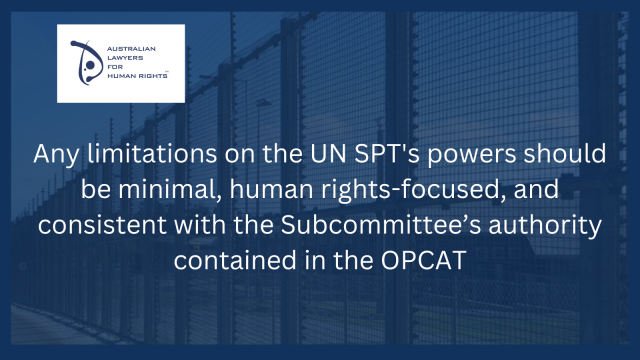 ALHR made a submission to the Queensland parliament's Legal Affairs and Safety Committee Inquiry into the Monitoring of Places of Detention (Optional Protocol to the Convention Against Torture) Bill 2022.
In October 2022, ALHR, along with more than 95 other key signatories, expressed profound concern in an open letter when the United Nations Subcommittee on Prevention of Torture (the Subcommittee) was forced to suspend its visit to Australia, as a result of obstruction, when attempting to carry out its mandate. In Queensland, this opposition was said to be on the basis of state laws preventing access to mental health in-patient settings. ALHR therefore welcomes the Attorney-General's and Minister for Justice's introduction of the Bill to allow the Subcommittee access to places of detention, to fulfill its mandate under the Optional Protocol to the Convention against Torture and other Cruel, Inhuman or Degrading Treatment of Punishment (the OPCAT).
Having regard to standards set in similar legislation in other jurisdictions and commentary on the OPCAT, ALHR believes the Bill falls short of meeting the OPCAT's aims, namely to promote better adherence to the substantive human rights obligations contained in the Convention Against Torture (CAT). While ALHR believes the introduction of the Bill is a much-needed move towards OPCAT compliance, a number of the Bill's clauses raise some concern; these include the:
restrictive definition of 'places of detention';
objection and restriction processes; and
the proposed form of consent required to participate in an interview with the Subcommittee.
Any limitations imposed by the Bill on the Subcommittee's powers should be minimal, human rights-focused, and consistent with the Subcommittee's authority contained in the OPCAT. ALHR's submissions therefore urges amendments to address the above shortcomings.
While not currently the subject of the Bill's drafting, ALHR notes that further legislation will need to be enacted, beyond this Bill, for greater OPCAT compliance as it relates to the functions of National Preventive Mechanisms (NPMs). In addition to the Subcommittee, NPMs perform crucial preventative and proactive roles in OPCAT compliance. In the Australian context, the federal government has elected a 'multiple-body monitoring system', requiring states and territories to designate their own NPMs. Queensland is still to designate its NPMs. However, given the similar powers and functions afforded to NPMs and the Subcommittee under the OPCAT, similar legislative measures as noted throughout this submission will also need to be considered in any future NPM legislation.
Since the lodgement of ALHR's submission to this Inquiry on 11 January 2023, Australia has again missed its deadline for implementing its OPCAT obligations. The 20 January 2023 deadline was the third such deadline the country has missed since 2017.
Read ALHR's submission in full here
The Department of Justice and Attorney-General's responses to the 29 submissions recommendations, including the specific concerns raised within ALHR's submission are now available here