New Commonwealth Modern Slavery Bill welcomed
July 10, 2018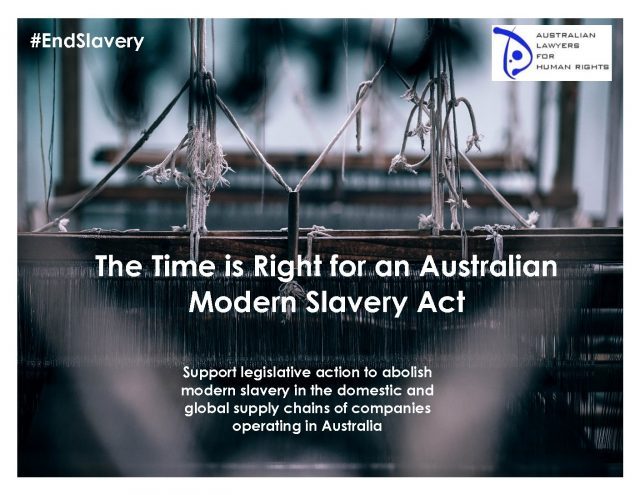 Australian Lawyers for Human Rights (ALHR) welcomes the introduction of the Modern Slavery Bill into Parliament. The Bill requires certain large business entities with a consolidated revenue of $100m or more per year to report annually on the steps they have taken to identify and prevent risks of modern slavery in their supply chains. Around 3,000 companies will be required to report under the proposed legislation, and other entities can report voluntarily.
Lauren Zanetti, Co-Chair of ALHR's Business and Human Rights Subcommittee, said, "The Bill is an important legislative step in requiring businesses to take responsibility for human rights by engaging in a 'race to the top' to combat modern slavery throughout global supply chains. ALHR strongly supports the need for a comprehensive suite of new national laws to combat the issue of modern slavery, and looks forward to working with the Government and other parties to ensure an effective Australian Modern Slavery Act is passed."
Under the proposed measures large businesses will have to report annually against six mandatory criteria. It will be a requirement that their annual supply chain statements be signed at board level and held in a publicly accessible, online central register, funded by the Government. The Federal Government would also be required to provide an annual statement on behalf of most Commonwealth entities.
Ms Zanetti said, "ALHR supports these initiatives, which reflect both the recommendations of the Joint Standing Committee on Foreign Affairs and Trade's year-long Inquiry into modern slavery, and ALHR's recommendations to that Inquiry."  However, Ms Zanetti said, "Unfortunately some of the Inquiry's key recommendations, aimed at combating domestic slavery and addressing lessons learnt from the UK's similar regime, are missing from the Bill."
Ms Zanetti explained, "ALHR welcomes the Government's proposed introduction of a central online register of businesses' annual modern slavery statements, but without a list of the businesses that have to report, it is unclear how consumers, media, civil society and business competitors will be able to effectively monitor whether relevant businesses are fulfilling their reporting requirements. A list of reporting businesses was recommended by the Inquiry and is critical to facilitating a 'race to the top' because it incentivises reporting and provides certainty for stakeholders about who is required to report.  While the establishment of such a list  is a significant undertaking, ALHR  calls on the Government to ensure the Bill provides a process for  implementing the recommendation and creating  a list of reporting businesses, before the mandated revision of the Act after 3 years ."
"Additionally it's concerning that the Bill provides no consequences for businesses' failure to comply with the requirement to publish an annual supply chain statement and neglects to establish an Independent Anti-Slavery Commissioner as recommended by the Government's own Inquiry," said Ms Zanetti.
"An Independent Anti-Slavery Commissioner would provide leadership, advocacy and coordination of multi-agency responses to combatting modern slavery offences including forced labour, human trafficking and forced marriage. Notably, the United Kingdom's Independent Anti-Slavery Commissioner's similar work has resulted in a 159 per cent increase in recorded modern slavery offences during 2016 to 2017. The Commissioner could also play a key role in providing support for businesses to comply with the reporting requirement," Ms Zanetti said.
Media Contact: please contact Matt Mitchell on 0431 980 365 or media@alhr.org.au 
ALHR was established in 1993 and is a national association of Australian solicitors, barristers, academics, judicial officers and law students who practise and promote international human rights law in Australia. ALHR has active and engaged National, State and Territory committees and specialist thematic committees. Through advocacy, media engagement, education, networking, research and training, ALHR promotes, practices and protects universally accepted standards of human rights throughout Australia and overseas.