BREAKING: Top UN Human Rights body recognises right to a sustainable environment, appoints independent expert
October 9, 2021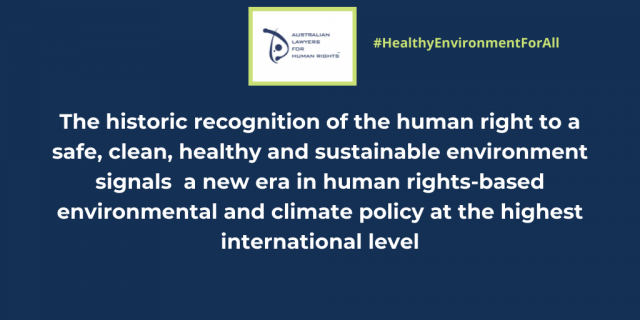 Australian human rights experts welcome news overnight that the United Nations Human Rights Council (UNHRC) has recognised the human right to a safe, clean, healthy and sustainable environment and appointed a new Special Rapporteur on human rights and climate change.
Two resolutions were comfortably passed. The first, proposed by Costa Rica, The Maldives, Morocco, Slovenia and Switzerland, recognises that the right to a safe, clean, healthy and sustainable environment is related to other rights which States are already obliged to protect  under international law and calls on all States to work together to implement this newly-recognised right.
The second resolution, presented by the Bahamas, European Union, Fiji, Panama, Paraguay, Sudan and the Marshall Islands establishes a mandate for an independent expert to report to the UNHRC on the impacts of climate change on human rights, and to provide guidance to States on the implementation of a human rights-based approach to climate action.
Australian Lawyers for Human Rights (ALHR) Environment and Human Rights Subcommittee Co-Chair Chris Caskey said, "Today's declarations signal a new era in human rights-based environmental and climate policy at the highest international level."
"Australia must begin to take the human rights impacts of its failure to adequately protect the environment and act on climate change seriously. Indeed, while it may be easy to forget within our current domestic dialogue, Australia is obliged to protect and respect the human rights of all individuals within its territory and subject to its jurisdiction. In the lead up to Glasgow, this obligation could now not be clearer."
"ALHR looks forward to engaging with the new Special Rapporteur in ensuring that these rights are respected and protected here in Australia."
Today's historic resolutions follow decades of campaigning, in particular by Indigenous Peoples organisations and those representing Small Island Developing States, as well as our Torres Strait 8 here in Australia. In August, ALHR joined with over 1,176 civil society organisations worldwide to call for the global recognition of the right to a healthy environment. 
Earlier this week, the UN High Commissioner for Human Rights, Michelle Bachelet, addressed the Council noting that "a safe, clean, healthy and sustainable environment is the foundation of human life" and that environmental threats "constitute the single greatest challenge to human rights in our era."
The issue will now go to the UN General Assembly in New York.
For all media inquiries, contact: Matt Mitchell, ALHR media manager on 0431 980 365.