Take action: stand with ALHR against Latham's harmful "Education Bill"
February 17, 2021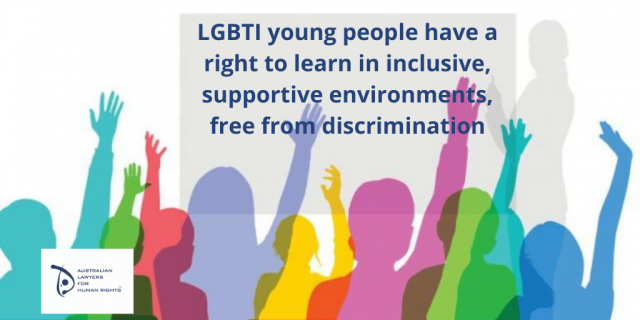 Please help ALHR to stand up for the human rights of trans and gender diverse children in NSW by urgently registering your opposition to Mark Latham's harmful Education Legislation Amendment (Parental Rights) Bill NSW.
The NSW Parliament's Portfolio Committee is currently conducting an inquiry into the Bill and is receiving submissions from the public via the completion of an online questionnaire, closing on 28 February 2021. We are asking you to add your voice by completing the questionnaire. It will only take a few minutes and we have prepared some resources below to help you:
Background
In August 2020, ALHR wrote to the NSW Premier regarding the Bill's inconsistency with international human rights law standards, best practise and the safety and wellbeing of children. We also issued a Media Release. Our concerns were reported by Sydney Criminal Lawyers and Green Left.
We issued a further Media Release on 29 January expressing serious concerns in respect of the Portfolio Committee's inquiry into the Bill. Mr Latham is the Chair of an inquiry into his own proposed legislation. Questions within the online questionnaire appear to have been formulated in such a way as to obtain self-serving data and to limit the views and information that members of the NSW public can provide to the Inquiry.
Please take action:
To assist you in completing the questionnaire here are some key points you may wish to address.
Which questions to answer:
When completing the Inquiry questionnaire please skip questions 3-7 given ALHR's concerns in relation to how those questions are framed and the way in which the resulting data may be misused.
In the comments box at 8, we suggest using some or all over the below content which can be copy/pasted and adapted. Our hope is that with an influx of comments in relation to international human rights law, the message will be strong.
Content suggestions:
The fear mongering necessary to advance this bill derives from the misleading notion that in NSW teachers in schools are actively teaching gender fluidity. However in NSW teachers are obliged by law and subsidiary codes of ethics to honour the identities of children as they identify.
The Bill will:
Prohibit schools from teaching that trans and gender diverse people exist and should be treated with respect for their inherent dignity and right to equality
Prohibit school counsellors from affirming a trans or gender diverse student or providing them with any support or referrals to gender affirming support.
Put teachers at risk of losing their job when they support a trans or gender diverse student in affirming their identity.
Allow parents to deny their children access to lessons in public schools which are consistent with international human rights standards and may contradict their political, social or personal values, including their views about LGBTIQ+ people.
Require schools to present discredited counter narratives when teaching classes like science or history.
Key concerns:
The Bill:
Ignores law and policies which direct curricula in NSW (and across Australia);
Ignores the fact that LGBTI young people remain some of our most vulnerable to abuse, harassment and violence;
Ignores the human right of LGBTI young people to learn in inclusive, supportive environments, free from discrimination, which are enshrined in international human rights instruments to which Australia is a party.
Australia's international human rights obligations
Australia is a party to the United Nations Convention on the Rights of the Child. Australia signed the CRC very soon after its inception and the Convention remains the most ratified international human rights law convention.
As a result of this, New South Wales is:
Obliged to ensure that in all actions concerning children, whether undertaken by public or private social welfare institutions, courts of law, administrative authorities or legislative bodies, the best interests of the child shall be a primary consideration. The principle of the best interests of the child is one of the fundamental principles of the CRC underpinning the interpretation of all children's rights and freedoms.
Article 2: Committed to taking all appropriate measures to ensure children are protected against all forms of discrimination, irrespective of their gender or sexuality.
Article 17: Committed to ensuring that all children have access to information aimed at the promotion of their physical and mental health.
Article 19: committed to protecting children from physical or mental abuse when they are in care.
Article 24: and recognising the rights of the child to the enjoyment of the highest attainable standard of health through education.
In 2019, the United Nations Committee on the Rights of the Child noted its serious concern at the limited information available regarding violence against lesbian, gay, bisexual, transgender and intersex children.
Mark Latham's draft legislation is targeting LGBTI young people and seeks to remove already limited resources schools use to help LGBTI children.
If Mark Latham's Bill were to become law in NSW our institutions would effectively become complicit in serious human rights abuses against LGBTI children.
"There may be times when we are powerless to prevent injustice, but there must never be a time when we fail to protest." – Elie Wiesel
Please stand with us and stand up for human rights.