Songs for Asylum: An Evening of Music to Support Refugees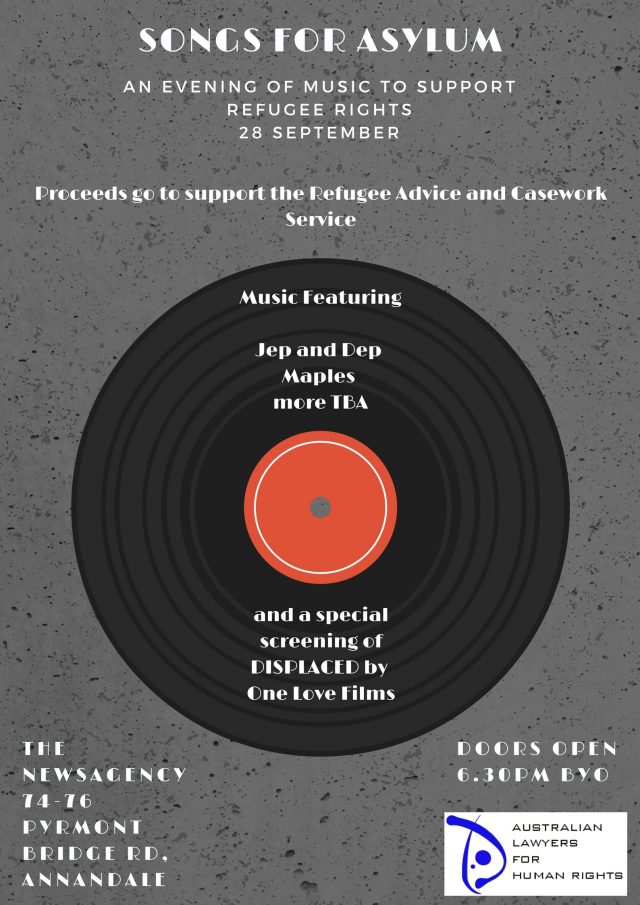 ALHR invites you to join us for an evening of film, music and spoken word, bringing the community together to raise awareness and inspire conversations about the rights of asylum seekers and refugees in Australia.
At a time when the Australian law and policies are having prejudicial impact on the rights of people seeking asylum, ALHR believes it is important for the community to remain informed and to support the tireless of work community legal centres in upholding the rights of people seeking asylum.
All proceeds from this event will go to support the Refugee Advice and Casework Service (RACS) in Sydney – one of Australia's leading refugee legal centres providing free, specialist legal assistance to people seeking asylum and refugees seeking to reunite with their families.
Khanh Hoang, co-chair of the Refugee Rights Subcommittee of the Australian Lawyers for Human Rights and representatives from the Refugee Advice and Casework Service will speak about the current situation facing asylum seekers and refugees in Australia.
When:
Thursday 28th September. Doors Open 6:30 PM
Film screening and presentation from ALHR and RACS: 7.00pm
Music from 7.30pm until approximately 10.15pm (with intermissions).
BYO Alcohol
Where:
The Newsagency
74 – 76 Pyrmont Bridge Road, Annandale  NSW
Tickets:
$20 ALHR members
$25 (general public)
Music featuring:
Jep and Dep are an underground Folk-Noir Duo from Sydney. Their music is often compared to Lee Hazelwood and Nancy Sinatra meets Nick Cave and Kylie Minogue. Beautifully dark, dramatic and cinematic.
Formed in 2012, the duo independently released their acclaimed debut Album 'WORD GOT OUT' in 2014 earning 4 out of 5 stars from the Sydney Morning Herald and Rolling Stone magazine. Their current album THEYVEBEENCALLED is available now.
MAPLES (Gabby Huber) Sydney-based songstress Gabby Huber is well known to Australia's larger music community for her previous endeavours as a band member, touring and playing abroad as a keyboardist and vocalist. Now, after spending several years quietly and carefully crafting her solo sound, she is stepping into the world as Maples.
Film
Genna Chanelle Hayes is a dedicated storyteller with a focus on universal human rights. She works both in front of and behind the camera as a writer, director, producer and actress. Genna has recently returned from Cannes Film Festival where she debuted her film, Wurinyan.
She will be showing her short film DISPLACED, which she described as a "film that not only addresses our current refugee crises, but goes beyond that into the issues driving it"