Wiradyuri Women's ceremonial area set to be destroyed on International Women's Day
February 22, 2021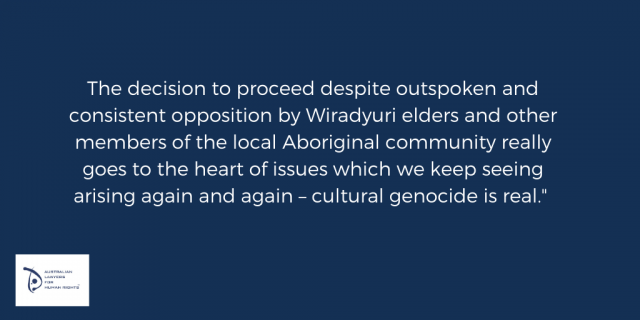 Australian Lawyers for Human Rights (ALHR) has condemned plans to commence construction of a go-kart track at Wahluu (Mount Panorama) that will destroy a sacred Wiradyuri Women's  ceremonial  area. Ironically, the destruction of Wahluu will begin on International Women's Day – a day on which the global community comes together to celebrate and recall the importance of women's  social, economic, cultural, and political rights. 
Wahluu has a long and important history for the Wiradyuri community, the Traditional Owners of the Bathurst Region. The site's ancient and ongoing cultural significance stems from its role as a place where women handed their sons to men for tribal initiations. In 2015, the Aboriginal cultural heritage values of the site were formally recognised by the NSW Government with its decision to approve the dual name for the site as Wahluu/Mount Panorama. In the same year, Bathurst Regional Council approved the development of a go-kart track on the site and later in 2018, approved controversial plans to lengthen the track.
Jo Byrne, Co-Chair of ALHR's Indigenous Rights Subcommittee said, "ALHR calls on the Bathurst Regional Council to reconsider commencement of the works and instead engage with the Wiradyuri Traditional Owners Central West Aboriginal Corporation (WTOCWAC) in a manner that is consistent with the UN Declaration on the Rights of Indigenous Peoples. The push to proceed with this development appears to be seriously out of step with international standards recognising that respect for Indigenous knowledge, cultures and traditional practices contributes to sustainable and equitable development and Indigenous peoples have the right to practise and revitalise their culture, including by maintaining and protecting archaeological and historical sites."
 The decision to proceed with the development despite outspoken and consistent opposition by Wiradyuri elders and other members of the local Aboriginal community really goes to the heart of issues which we keep seeing arising again and again – cultural genocide is real. We have just endured the destruction of the significant Juukan Gorge rock shelters in Western Australia and sacred Djap Wurrung birthing trees in Victoria. We now face losing sacred parts of Wahluu. It is clear Australia needs to urgently reform how consultation happens with Traditional Landowners to avoid further loss of irreplaceable cultural heritage."
The Joint Standing Committee on Northern Australia wrote in their interim report, "Never again can we allow the destruction, the devastation and the vandalism of cultural sites as has occurred with the Juukan Gorge—never again!". The Council's proposal, along with many other approved actions, and proposed actions, across Australia shows how commonplace the destruction of cultural heritage of our First Nations is. 
"Decision-makers at a local, regional and national level need to do more than pay mere lip service to the ongoing importance of Aboriginal cultural heritage. All Australian jurisdictions must reform their laws to provide First Nations people a greater say in the protection of their cultural heritage. 
"As proposals are currently underway for a First Nations Voice at local, regional and national levels, now is the time to examine how governments can work in partnership with First Nations people and allow them to have their say on the enactment or implementation of laws that are purportedly designed to protect their heritage."
Contact: Matt Mitchell, ALHR media manager 0431 980 365.