Respect at Work Bill does not go far enough
July 24, 2021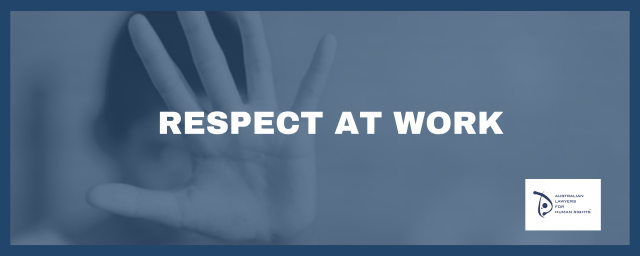 Australian Lawyers for Human Rights (ALHR) has expressed concern that the Federal Government's Sex Discrimination and Fair Work (Respect at Work) Amendment Bill 2021 (the Bill) does not go far enough to implement the sweeping and widespread reforms necessary to address sex-based harassment in Australian workplaces.
 Cassandra Bourke, Co-Chair of ALHR's Women and Girls' Rights Committee said, "ALHR welcomes the Bill which implements a number of recommendations put forward by the Sex Discrimination Commissioner in the Respect@Work Report to improve prevention and responses to sexual harassment. The reforms – if implemented –  represent long overdue progress in meeting Australia's international human rights obligations to provide effective protection for women against sexual harassment in the workplace, recognising it as a form of sex-based discrimination and gender-based violence.* However, ALHR endorses the position of the Australian Human Rights Commission that to fully and effectively implement the recommendations of the Respect@Work Report, and meet Australia's international human rights law obligations, additional amendments are required."
 ALHR recommends, in its Submission to the Senate Standing Committees on Education and Employment, that the Australian Government should make the legislation bolder and remove caveats that limit the goal of achieving substantive equality between women and men. The organisation also recommends that the Bill be amended to: 
provide clarity and consistency around the limitation period for complaints to be made; extend the operation of the sexual harassment provisions to make clear that they also apply to not-for-profit organisation in industries such as health, education, local government and community services;

Set a more realistic threshold for the new sex-based harassment provision;

Introduce a duty on all employers to take reasonable and proportionate steps to prevent sexual harassment in their workplace;

Allow unions and other representative groups to bring representative claims to court; and

Provide costs protection for claimants, to reduce the barriers to seeking protection.
"This Bill makes a good start  to implementing the Respect@Work Report recommendations. We hope the Committee will listen to the wide range of submissions from organisations representing women across professions and across the community to further strengthen the Bill and bring a lasting change In culture to Australian workplaces. If ever there was a time for the Australian Government to demonstrate its commitment to genuine and systemic change in this country in terms of equality, empowerment and protection for women in the workplace, this is certainly it," Leanne Smith, Co-Chair of ALHR's Women and Girls' Rights Committee said.
Contact: Matt Mitchell, ALHR media manager 0431 980 365
* The United Nation's Declaration on the Elimination of Violence against Women recognises that sexual harassment is a form of sex-based discrimination that constitutes gender-based violence, the United Nation's Convention on All Forms of Discrimination against Women (CEDAW) require States parties to act to protect women against violence of any kind occurring at the workplace and the United Nation's Committee on the Elimination of Discrimination Against Women has called on States parties to take all legal and other measures that are necessary to provide effective protection of women against gender-based violence including sexual harassment in the workplace.