Positive steps towards an annual modern slavery reporting requirement for large entities in Australia
January 30, 2018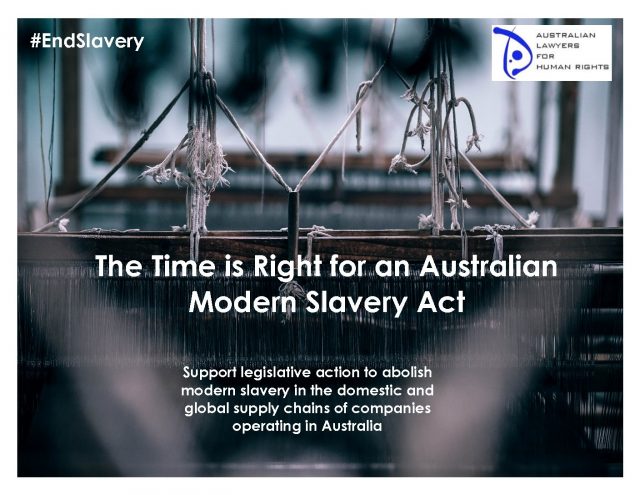 During last year's Inquiry into establishing a Modern Slavery Act in Australia, the Government outlined a proposal to require large corporations operating in Australia to publish annual statements outlining their actions to address modern slavery throughout their business and supply chains. The Walk Free Foundation has estimated there are up to 40.3 million victims of modern slavery globally.
ALHR's Business and Human Rights Subcommittee provided a Submission to the Government's Public Consultation regarding the details of the proposed modern slavery reporting requirement in October 2017. ALHR is pleased that the Joint Standing Committee on Foreign Affairs, Defence and Trade's December 2017 Report Hiding in Plain Sight has proposed a modern slavery reporting model that aligns in many aspects with ALHR's recommendations.
Lauren Zanetti, Co-Chair of ALHR's Business and Human Rights Subcommittee said, "the Committee's recommendations regarding an annual modern slavery reporting requirement are an important step forward on the journey towards a Modern Slavery Act for Australia. ALHR is pleased that the Committee's recommendations address some of the weaknesses in the equivalent reporting requirement in the UK's Modern Slavery Act."
The Committee acknowledged in its Report that its proposed modern slavery reporting model remains subject to consultation with the community and civil society. ALHR endorses many of the Committee's recommendations, including that:
the 'entities' subject to the modern slavery reporting requirement should be defined widely to include a range of corporate entities and the Government;
these entities should be required to publish an annual modern slavery statement addressing prescribed criteria regarding the steps taken to deal with modern slavery risks in their business and supply chains;
that modern slavery statements be approved at the board level equivalent of each entity;
the modern slavery statements be published in a government funded, central repository;
there be penalties for failure to adequately comply with the reporting requirement;
that the reporting requirement should apply to entities with an annual revenue of at least $50 million (though ALHR believes this threshold could be $25 million); and
the Government only procure from entities that comply with the reporting requirement.
ALHR also urges the Government to continue to consult with civil society and other stakeholders regarding outstanding aspects of the proposed modern slavery reporting requirement. Examples of areas for further consultation include the details of the resourcing and functionality of the central repository, the appropriate penalties for non-compliance, the extent of Government guidance for business on the reporting requirement, how entities should measure the effectiveness of their efforts to address modern slavery and how the revenue threshold for reporting entities should be calculated.
Click here to Read ALHR's Submission on Modern Slavery in Supply Chains Reporting Requirement– Public Consultation Paper and Regulation Impact Statement
Media Contact: To arrange an interview with Lauren Zanetti please contact Matt Mitchell on 0431 980 365 or media@alhr.org.au