Lawyers appalled at incommunicado detention measures in Australia – this is not Guantanamo
October 14, 2017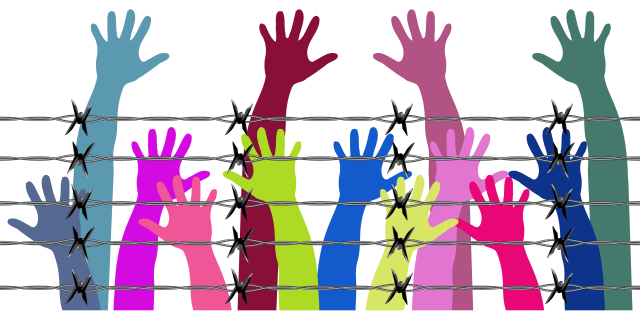 "Australian Lawyers for Human Rights (ALHR) strongly opposes proposed amendments to the Commonwealth Migration Act, which have the potential to further trample the human rights of innocent people in Australian immigration detention, thereby amplifying and aggravating their existing traumas" says ALHR President Benedict Coyne.
"The amendments would allow dog searches, strip searches and warrantless searches, and allow the Minister to prohibit any item within immigration detention centres if the Minister determines that it might be a risk to health, safety, security or order. Worryingly, the notes to the legislation and the explanatory memorandum to the Bill, contemplate that in practice this power could be used to deprive immigration centre detainees of even their mobile phones, SIM cards, computers, electronic devices, and even their medications or health supplements."
""These measures are completely unnecessary and incredibly excessive. The Minister is treating our detention centres as if they are akin to Guantanamo Bay. This legislation should not be passed. Australia urgently needs a federal human rights act to keep such gross excesses of power in check. The right to communicate and associate with friends, family and legal representatives and the right to healthcare are fundamental human rights. Yet such basic rights are not protected by law in Australia which is why the Minister is attempting to ride roughshod over these innocent people's rights and make their day-to-day living conditions even more egregious."
 "Restricting the rights of detainees in this way would be problematic even if they were convicted criminals" says Mr Coyne. "Now it is proposed that extreme restrictions be imposed upon entirely innocent men, women and children who have committed no crime. These people are completely cut off from friends and family," says Mr Coyne. "Mobile phones are their only contact with the outside world; their only connection to any hope for a different future. Indeed, given this Government's consistent lack of transparency concerning human rights abuses in immigration detention, we question the true motives of restricting the ability of innocent people to communicate with the outside world. We fear that these measures are another aspect of efforts to keep secret from Australian's what is happening in their name."
"The suggestion that detainees could be deprived of essential medication under the new legislation is also profoundly troubling" added Mr Coyne. "Rumours have circulated that this already happens in immigration facilities. The Bill seems to be confirming these rumours and seeking to legalise a behaviour which not only goes against all concepts of duty of care but which, in the case of removal of medication, has the potential to seriously injure or even kill.
This Bill contravenes the most basic principles of decency, dignity and fairness. It reaches an appalling new low in Australian government policy" says Mr Coyne.
 Media Contact: Matt Mitchell M: 0431 980 365             E: media@alhr.org.au