Joint Statement on Marriage Equality From LGBTI Organisations and Leaders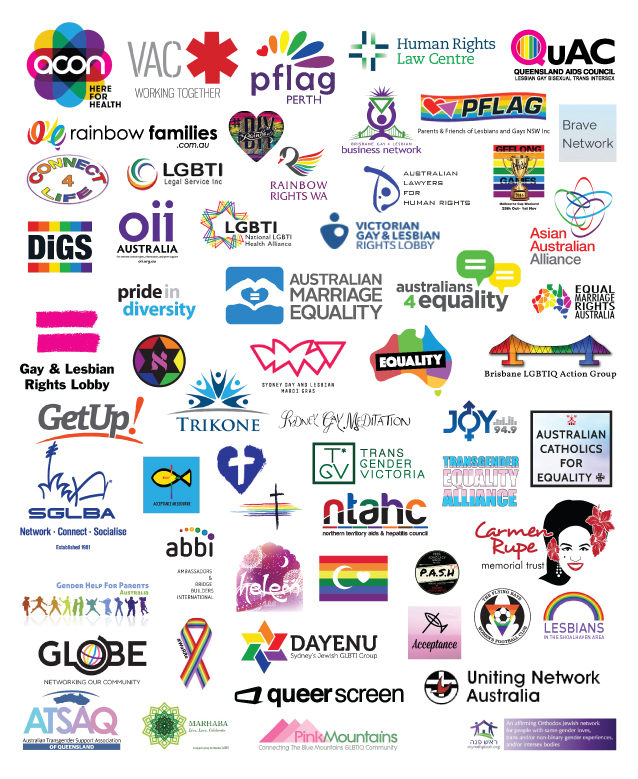 ALHR's LGBTI Subcommittee, together with 90 other LGBTI organisations and leaders, have today signed a joint statement calling on supporters of marriage equality in the parliament to unite and work together to find a pathway to achieve marriage equality in this term of Parliament.
"As organisations and leaders of the lesbian, gay, bisexual, transgender and intersex (LGBTI) communities, we wish to express our relief and gratitude that Parliament voted down the plebiscite.
By rejecting a plebiscite, Parliament has acknowledged the potential impact on our communities caused by exposure to the divisive and marginalising language used by a vocal minority who campaign against marriage equality. Our concerns about the negative impact a plebiscite would have had are based on lived experience and supported by research.
The threat of a plebiscite has us working together and more organised than ever before, and our momentum is strong and is growing.
An overwhelming majority of the Australian people, a majority of both houses of Parliament and leaders of all major parties support marriage equality. We have never had so much support for achieving this important step towards every Australian having the same opportunities as their neighbour.
If all members of Parliament were able to vote freely according to their conscience and the proven wishes of a clear majority of Australians, we would be able to finally celebrate our country achieving this historic reform.
Our shared goal is simple – we want marriage equality as soon as possible. The most efficient and effective way of achieving marriage equality is a vote in Parliament, a power confirmed by the High Court in 2013. There are multiple paths to this vote – none of which involve a plebiscite. We urge Parliament to consider all options available to achieve this much needed reform expeditiously.
We make this call not only on behalf of LGBTI communities and their families, but to ensure future generations of LGBTI Australians can grow up knowing they are equal to their friends, family, colleagues and all other Australians under the law.
By working together, Parliament can fix this inequality. Therefore, we urge Parliament to take the following actions before finishing its sitting sessions in December:
We call on the leaders of all the parties to meet to determine a way forward that will deliver marriage equality through a Parliamentary vote as soon as possible in line with the wishes of the Australian people and the majority of members of Parliament; and,
Publicly affirm that this is a reform that will be decided in Parliament and not through a plebiscite.
We remind our elected representatives of former Prime Minister Tony Abbott's statement that the previous Parliament was the "last Parliamentary term in which the [Liberal] party room can be bound[1]" on marriage equality. This commitment should be upheld in this term.
We will continue to build on the growing momentum to achieve marriage equality.  We will continue to demonstrate the nation's strong and diverse support for marriage equality until LGBTI people are afforded the dignity and equality they deserve.
[1] http://www.abc.net.au/news/2015-08-11/same-sex-marriage-party-room-votes-in-favour-of-status-quo/6689678
 List of Signatories (as of 09/11/2016)
Acceptance Melbourne
Acceptance Sydney
ACON
Aleph Melbourne
Ambassadors & Bridge Builders International
Asian Australian Rainbow Alliance (AAuRA)
Australian Catholics for Equality
Australian Christians for Marriage Equality
Australian GLBTIQ Multicultural Council
Australian Lawyers for Human Rights
Australian Marriage Equality
Australian Transgender Support Association Queensland
Australians for Equality
Michael Barnett
Brave Network Melbourne
Brisbane Gay and Lesbian Business Network
Brisbane LGBTI Action Group
Carmen Rupe Memorial Trust
Florence Chen
Meg Clark
Connect for Life Tasmania
Corey Irlam
Dayenu
Johann De Joodt
Anne-Marie Delahunt
DiGS Equality
Diversity Launceston
DIY Rainbow
Kate Doak
Maxine Drake
Equal Marriage Rights Australia
Kristyana Finch
Flying Bats
Jamie Gardiner
Dr Gávi Ansara
Geelong Pride Games
Gender Diversity Alliance South Australia
Gender Help for Parents
GetUp!
Kelly Glanney
GLOBE Melbourne
Dawn Hawkins
Brendan Heck
Helem
Mandy How
Human Rights Law Centre (HRLC)
Rev'd J. Peter Weeks
Kristine Johnson
Sharon Jones
JOY
Alastair Lawrie
Lesbians in the Shoalhaven Area
LGBTI Legal Service
Matthew Loader
Marhaba Melbourne
Marriage Equality Gilmore
Malcolm McPherson
Metropolitan Community Church – Melbourne
Muslims Against Homophobia
National LGBTI Health Alliance
New South Wales Gay and Lesbian Rights Lobby
Northern Territory AIDS and Hepatitis Council
Benjamin Oh
OII Australia
Stephen Page
PASH.tm
Tim Peppard
PFLAG NSW
PFLAG Perth
Pink Mountains
Pride in Diversity
Queensland AIDS Council
Queer Muslims Sydney
Queer Screen
Rainbow Families
Rainbow Rights WA
Rosh Pinah: An Affirming Orthodox Jewish Network
Dr. Ruth McNair
Sydney Gay and Lesbian Business Association
Sydney Gay and Lesbian Mardi Gras
Sydney Gay Meditation Group
Transgender Equality Alliance
Transgender Victoria
Trikone
Uniting Network
Anthony Venn-Brown
Victorian AIDS Council
Victorian Gay and Lesbian Rights Lobby
Wear Rainbow
Annie Whitehead