Human rights lawyers welcome Victorian bill to facilitate Indigenous treaty negotiations
June 29, 2018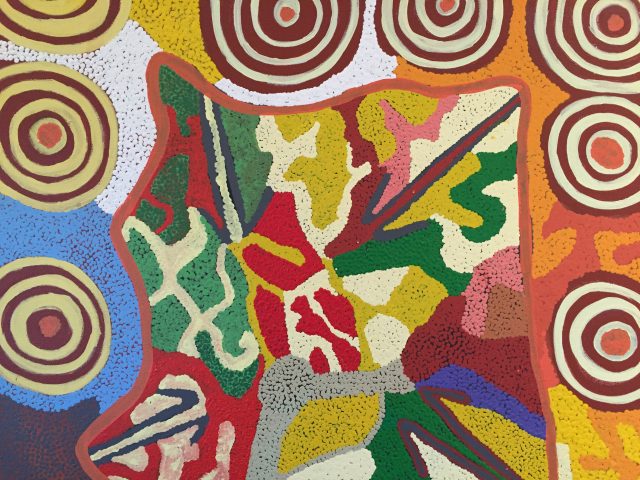 Photo credit: Painting by Elizabeth Holland
Australian Lawyers for Human Rights (ALHR) has acknowledged the positive step taken by the Victorian Government in passing the Aboriginal Victorians Bill.
Jo Byrne, Co-Chair of ALHR's Indigenous Rights Subcommittee says, "The Bill allows for the creation of an Indigenous representative body to be elected by Indigenous Victorians which in turn will facilitate the treaty negotiation framework. A Treaty will benefit all Victorians by promoting reconciliation, helping to heal wounds of the past and fostering Indigenous culture. In addition, a Treaty promises the potential to improve the access of Aboriginal peoples in Victoria to land rights, self-governance and self-determination."
"This is a significant step forward," said Byrne, "as it "will provide a governance space for Indigenous peoples to have a voice and to oblige governments to seek the free, prior and informed consent of Indigenous peoples regarding decisions which affect them. For too long Indigenous Peoples have been marginalised and too many decisions have been made which have had significant impacts on their human rights, culture, and lives, without their consultation."
"ALHR hopes that other jurisdictions will soon follow Victoria's example of leadership in addressing the continued marginalisation of Indigenous Peoples in Australia. Governments around Australia must do much more to ensure Indigenous Peoples are treated with respect.
ALHR supports progress on constitutional reform and Treaty at the Commonwealth level, in order to establish a new framework for relations between Aboriginal and Torres Strait Islander peoples and the Australian state and community that is consistent with international human rights law standards and the UN Declaration on the Rights of Indigenous Peoples.
Media Contact: To arrange an interview please contact Matt Mitchell
M: 0431 980 365 E: media@alhr.org.au