Human rights lawyers welcome path to permanent safety for temporary visa refugees
February 13, 2023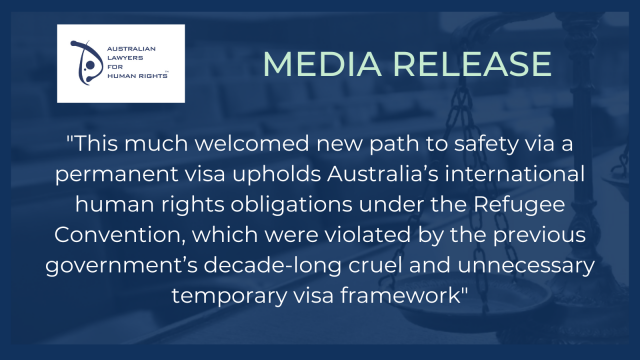 Australian Lawyers for Human Rights (ALHR) welcomes the Federal Government's announcement that it will fulfill its pre-election commitment to end a decade of suffering by providing a path to permanent safety for refugees holding temporary protection visas. 
Approximately 19,000 people who Australia has recognised as refugees, but who have been subjected to temporary visas under the 'Fast Track' process, will be eligible for a permanent Resolution of Status (RoS) visa. 
Ms Caitlin Caldwell, ALHR's Co-Chair of Refugee Rights said, "This new path to safety via a permanent visa upholds Australia's international human rights obligations under the Refugee Convention, which were violated by the previous government's decade-long cruel and unnecessary temporary visa framework." 
"Those eligible to apply for an RoS visa will also have access to other, long denied rights, including to family reunion and citizenship, more comprehensive access to Australia's social welfare safety net, and tertiary education without prohibitive fees – further upholding numerous of Australia's international legal obligations under the core United Nations Human Rights treaties." 
"ALHR also welcomes the Federal Government's commitment of $9.4 million for legal assistance providers to provide advice and assistance to refugees on temporary visas.  This recognises the important role of legal assistance service providers, lawyers and migration agents in providing accessible legal assistance to help refugees to navigate this complex process."
Ms Caldwell continued, "However, ALHR calls on the Federal Government to ensure that people who have received unjust outcomes under the  flawed "Fast Track" process are not left behind. Approximately 12,000 people whose asylum claims were unfairly dealt with by this t' process currently have no pathway to permanency. The Fast Track process is a separate assessment process applied to approximately 31,000 people who arrived by boat between August 2012 and January 2014, as well as children born to these families. The process has seen significant administrative delays while subjecting refugees not successful at first instance to a highly restricted merits review process lacking legal integrity. The previous government's removal of legal assistance has forced many of those subject to the Fast Track process to navigate its complexities unrepresented, and contributed to a vast amount of suffering and mental anguish." 
 "ALHR calls on the Federal Government to uphold its non-refoulement obligations for all people subjected to the Fast Track process, including those who were incorrectly found to not be refugees due to an inherently unjust and flawed process."
 Contact: Matt Mitchell, ALHR media manager 0431 980 365.