Fundraiser for Indigenous Barristers Trust, 'A Bush Tucker Night'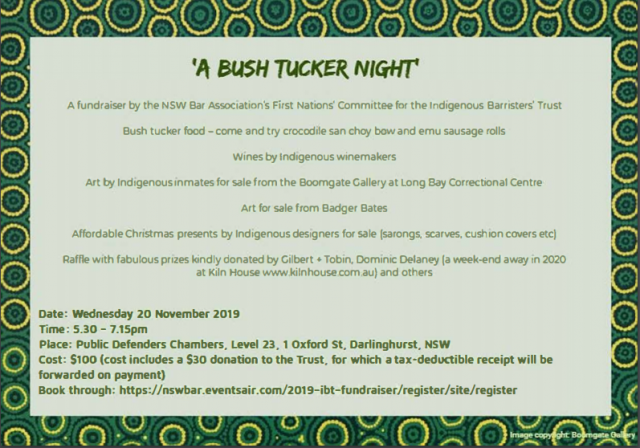 Fundraiser for Indigenous Barristers Trust, 'A Bush Tucker Night' 
Wednesday 20 November 2019, 5:30 pm – 7:15 pm
Public Defenders Chambers, 1 Oxford Street, Darlinghurst NSW
The NSW Bar Association's First Nations Committee is hosting a fundraiser for the Indigenous Barristers' Trust – The Mum Shirl Fund.
Try some bush tucker and wines by First Nations wine makers. There will be First Nations art and other items for sale and up for raffle.
The Trust provides financial and other assistance to Indigenous barristers as well as grants to law students who aspire to practice as advocates and young solicitors to attend advocacy courses.
Register for this event here: https://nswbar.eventsair.com/2019-ibt-fundraiser/register/site/register