Federal Attorney General applauded for launching inquiry into Australia's human rights framework
March 22, 2023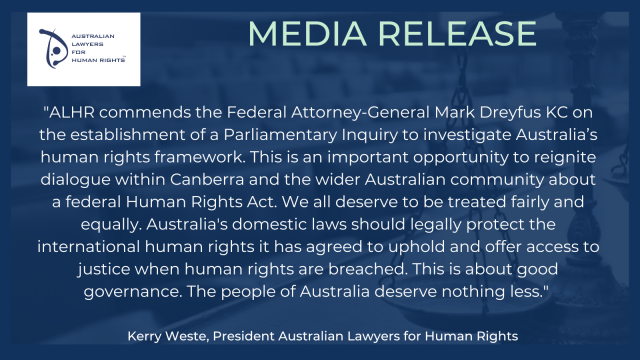 Australian Lawyers for Human Rights (ALHR) commends the Federal Attorney-General Mark Dreyfus KC on the establishment of a Parliamentary Joint Committee on Human Rights Inquiry to investigate Australia's human rights framework, with a focus on whether the Federal Government should introduce a Federal Human Rights Act. 
The announcement comes soon after the launch of an Australian Human Rights Commission's Free & Equal Position Paper proposing a model for a Federal Human Rights Act and after decades of campaigning by civil society organisations in Australia. 
ALHR President Kerry Weste said, "Australia was a founding member of the UN and one of eight nations involved in drafting the Universal Declaration of Human Rights (UDHR), yet we remain an outlier as the only Western liberal democracy bereft of a national framework to legally protect the rights and freedoms of all Australians." 
"A Federal Human Rights Act will create an essential framework that enables everyone involved in the work of government to engage in a positive collective effort to realise greater freedom, dignity and equality for all of us. When governments legally articulate and protect everyone's human rights the quality of decision-making is improved and people are empowered to understand and stand up for their rights."
"We now have Human Rights Acts in the ACT, Victoria and Queensland that are benefitting people every day in very concrete ways. Australians want to live in a society that, through everyday actions and decisions, upholds our rights and the rights of others, working together for a more sustainable, just, and prosperous society – for this generation and those yet to come.
Ms Weste emphasised, "This year marks thirty years since ALHR began calling for a federal Human Rights Act, it has been over a decade since the Brennan Inquiry indicated  overwhelming public support for the enactment of federal human rights protections. Over 80 organsiations, including ALHR, support the Federal Charter Campaign. 
In December the world will celebrate the 75th anniversary of the UDHR, and it's time for Australia to walk the talk and reignite the dialogue about a federal Human Rights Act. We all deserve to be treated fairly and equally.  This is about good governance. The people of Australia deserve nothing less."
Contact: Matt Mitchell, ALHR media manager 0431 980 365.