Event: WESTERN SYDNEY OPEN FORA : Current Threats to Freedom of Political Speech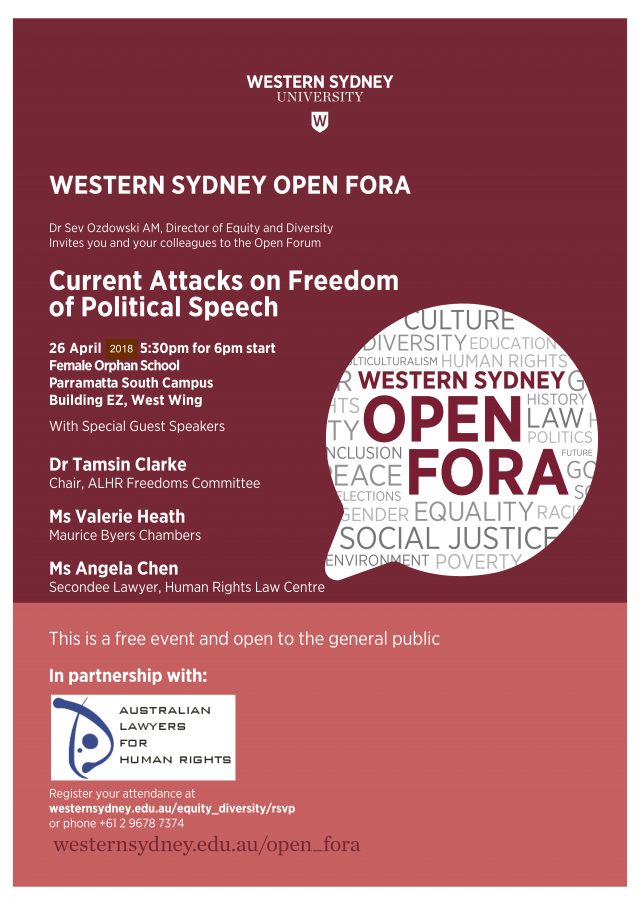 ALHR is excited to be partnering with the University of Western Sydney as part of the:
WESTERN SYDNEY OPEN FORA
Dr Sev Ozdowski AM, Director of Equity and Diversity Invites you and your colleagues to the Open Forum
Current Threats to Freedom of Political Speech
26 April 2017 5:30pm for 6pm start
Female Orphan School, Parramatta South Campus  BuildingEZ,WestWing
With Special Guest Speakers 
Dr Tamsin Clarke, Chair, ALHR Freedoms Committee
Ms Valerie Heath, Maurice Byers Chambers
Ms Angela Chen, Secondee Lawyer, Human Rights Law Centre
This is a free event and open to the general public
Register your attendance at
westernsydney.edu.au/open_fora
Current Attacks on Freedom of Political Speech
Join us for a discussion about what makes good law and the defects in the:
Foreign Influence Transparency Scheme Bill 2017
National Security Legislation Amendment (Espionage and Foreign Interference) Bill 2017
Electoral Legislation Amendment (Electoral Funding and Disclosure Reform) Bill 2017
Identity- Matching Services Bill 2018
Australian Passports Amendment (Identity-Matching Services) Bill 2018In the context of the Home A airs and Integrity Agencies Legislation

Dr Tamsin Clarke

Dr Tamsin Clarke LLB (Tas), LLM (Toronto), PhD (UNSW) has worked for over 35 years in corporate and financial services law and is a sole practitioner specialising in legal compliance. Her PhD topic discussed issues of racism, pluralism and democracy in Australia. She is Chair of the ALHR 'Freedoms' Committee.

Ms Valerie Heath

Valerie Heath B Juris LLB (UNSW), LLM (Sydney) has been in private practice as a barrister for more than 20 years and previously worked in insurance and government roles. Valerie's practice is principally in insurance and related fields. She specialises in life insurance and superannuation (particularly TPD and income protection claims), general insurance and government liability. She also practices in the areas of administrative law, commercial and corporate law, equity, personal injury, medical negligence, mediations and alternate dispute resolution, coronial inquests and inquiries, professional negligence and discipline.

Ms Angela Chen

Angela Chen LLB , BA(Sydney) is a Secondee Lawyer at the Human Rights Centre, practicing at Ashurst International Law firm. Angela has been working human rights issues with a particular focus on the complexities of the electoral reform bill.