Day 3 (Part 2) – Benedict Coyne – Human Writes Human Rights Blog – Trip to Geneva for Australia's Second Universal Periodic Review November 2015
DAY 3 – PART 2 – AMNESTY LUNCH PANEL ON INDIGENOUS ISSUES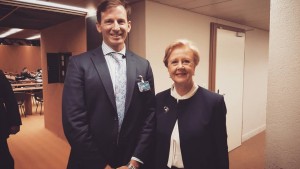 I bumped into President Gillian Triggs at the lunch set up outside Room XXII where the event as to be held. We had a great catch up about the engagement the AHRC had had from about 55 diplomatic missions who were seriously concerned about Australia's currently heavily diminished human rights record. On my way back to get a new card I had a missed call from Louise from Radio National who I spoke to and lined up an interview with Fran Kelly on Morning Breakfast at 8:15pm Geneva time. I asked Gillian whether she had much media interest, as the Australian media is typically uninterested in most things UN and human rights related, well certainly the Murdoch media. Gillian explained that while she had some media interest, the AHRC and her were strictly in an observer role in Geneva and there advocacy was focused domestically and contained in their excellent Second UPR Submission. However, if the Australian delegation said anything too misleading she may be forced to respond.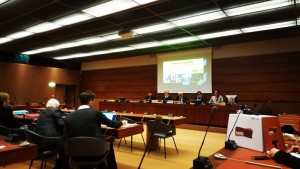 The panel was well attended and all the speakers spoke excellently and very informatively on the issues of significant disparity between the rights enjoyed by non-indigenous Australians and those withheld from indigenous Australians. All the evidence based research suggests in many respects the gap is opposing closing and more must be done from a position of prevention not detention. Damian Griffith and Laura from Amnesty spoke excellently and it reminded me of the recent LateLine report on how Australia is warehousing hundreds of indigenous peoples with mental disabilities who should be in proper health care facilities.
It was a situation slightly removed from "fortunately" that the Hon Phillip Ruddock was in attendance, front row, hand raised fiercely in the first question during which he appeared to take a swipe at Gillian Triggs for being the only non-indigenous panelist and then perplexingly rolled out the old "unelected judges" misconceived mythology in opposition to a bill/charter of rights – which had nothing to do with what anyone was talking about. President Triggs provided a very eloquent response regarding the principle of legality and the clear and uncontroversial role of the Parliament, the Executive and the Judiciary in our system of parliamentary democracy. I also couldn't help myself and had to ask a question regarding the perplexing and absurd nature of the anti-human rights oppositional diatribe (as an aside I am currently drafting an article to deal with this hysterical opposition to legally protecting basic human rights via a charter). Mr Ruddock also proceeded to pat himself on the back for the great progress made on indigenous rights including during his time in the relevant portfolios. However, Claire Mahon (Global Human Rights Clinic) took him to task on such assertions and said that we should not focus on congratulating ourselves on progress when we should be focusing only on the vast improvements that still need to be made and that the international community can plainly see that the situation can be described as nothing other than disgraceful, and they know and are watching, despite what the govt in Australia say.
With the greatest of respect, my own personal view is that I think Australian democracy would benefit greatly from an end to career politicians and much shorter terms in Parliament by a broad demographic of everyday people. While his ardent advocacy to end the death penalty is welcomed, I think it's time for "the father of Australian Parliament" to retire gracefully and with dignity. I know if I had been in Parliament for 42 years I might also begin to misjudge my impact, my calling and my ability to call a spade a spade (instead of a spud – i.e. human rights violations do not cease to be human rights violations because you decide to publicly refer to them as something other than human rights violations – or as Bob Marley said "you can't fool all the people all of the time" – lesson in that for Morrison, Dutton and most of the Australian Parliament).
[Stage left: Mr Coyne alights from soapbox and continues blogging proper].
I then raced off to the Serpentine Bar for a 10 minute catch up with my Oxford colleague Jose Parra (former UN lawyer, committee secretary and now UN consultant) who is also involved with me and other Oxford colleagues (led by the brilliant Isle of Man barrister Paul Beckett) in setting up Synceritas, an exciting innovative global business & human rights consultancy. Jose and me are meant to be meeting with a Swiss Bank this week to discuss Synceritas (as you do when you're in Switzerland I guess).