Day 3 (Part 1) – Benedict Coyne – Human Writes Human Rights Blog – Trip to Geneva for Australia's Second Universal Periodic Review November 2015
DAY 3 – PART 1: AN ASTUTE AUSTRIAN MORNING
Woke up in the dark at 5:45am and had a quick breakfast with my host family who were off skiing for the day. It was a brisk morning so I joined the chill with a quick hop, step and jump along the glorious morning lake charmer panorama to the city centre to get Tram 15 up the hill to the Palais des Nations. Walking along the traffic bridge over the clear blue lake, mountains adorning a sympathetic turquoise sky and pinch myself because it feels like a dream to be here – such stunning beauty. And I know we humans get used to things and normalise which is why it's always such a treat to see the world with new eyes, go on adventure, step outside comfort zone. I've been meeting a lot of international people living in Brisbane lately and my new eyes have given me great deal of gratitude for living in such a great city and country notwithstanding our desperately wanting record on rights! Alas I digress, where was I – walking across the bridge pinching myself. Found the Tram but not a ticket as the machine didn't work and then had to enter some delicate diplomacy with a team of frothing tram police who REALLY wanted to issue a fine but were ultimately reasonable and assisted me.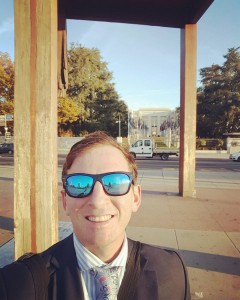 As soon as I saw the grand multi-flagged entrance to the Palais des Nations and the broken chair monument (a tribute to victims of cluster munition and perhaps also, well at least to me, a poignant reminder of the always unfinished work of the UN on the continuum of maintaining modern civilisation) I felt like I had finally made it somewhere I have been dreaming of coming to for many years! Yes, I took some requisite VERY excited looking selfies J No I did not have selfie stick (I refuse such individualistic trinkets – jaysus just ask another human to take a photo already!). As a UN virgin I had been advised to beat the maddening crowd and get to the accreditation entrance by 8:00am. I walked around the corner to the Pregny Gate and just made to sort my accreditation (aka access to the Palais and the UPR and side events) even though Australia's UPR is not scheduled to this afternoon at 2:30pm. To my surprise there was no huge line as I had been warned about. Apparently, there are about 9000 events each year at the UN Palais and often there are queues of hundreds of people such as will probably be the case for the 4th Business & Human Rights annual Forum next week (which sadly I cannot stick around for but will be back for next year for sure).
Security through-ed via the nicest most interested and engaging security personnel I have ever met. Accreditation sorted. I used my letter from WILPF letter (Women's International League for Peace and Freedom) as my HRLC letter didn't have my full name in my passport. I met the extremely inspiring WILPF secretary General Madeleine Rees at a dinner in St Lucia earlier this year after she spoke at a UQ Event. We sat next to each other and spent a lot of time engaged in a philosophical excursus of Game of Throes and the state of the world. We also chatted about WILPF engaging in global environmental issues including putting the crime of ecocide into the Rome Statute of the International Criminal Court. I am also meeting with WILPF people in Geneva this Thursday to discuss these ideas further.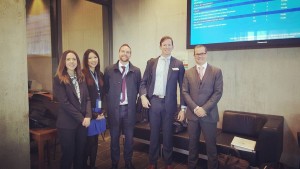 I received my pass unbeknownst that it was the wrong one, and was on my way. I saw the Australian delegation led by John Reid AO and went and introduced myself, wished them luck and got a snap. I then explored the grounds and took a few more excited selfies. I am in such awe of being here – for all its misgivings, the UN is such a powerful positive symbol of what is possible within and between human beings and, despite living in a "World at War", I can't but help have a huge amount of hope.
I then had to work out where I was going and consulted helpful humans as well as the big digital airport boards of what is going on. The buildings are huge monolithic structures that seem from the Soviet era (or Union buildings and Public Service buildings in Oz) and have a certain haunted uninhabitable charm about them. I decided to sit in on Austria's UPR this morning in prep for the big game this arvo. I walked from Building A to Building E through a very loooooooooong tunnel that felt like out of a 1970s Star Trek set.
Found Room XX and Fiona of the UWA UPR PhD. We traversed more security and I was ushered downstairs to the front row seats before the circular panoply of nation state name cards. The second Universal Periodic Review of Austria began and it was a very orderly and courteous and efficient affair with the Deputy President of the UN Human Rights Council conducting a very tight ship with each state on the speakers list given 1 minute and 10 seconds to raise concerns and make recommendations to the subject state.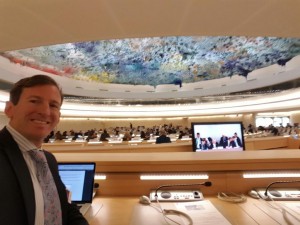 The rights of asylum seekers were front and centre of top priorities for peer states, which was interesting. There had been talk amongst Australian NGO participants that as Europe and the world were ensconced in an unprecedented global refugee crisis they may be reticent to raise Australia's mistreatment of asylum seekers at our UPR. This however, was not to be.
It was incredibly interested that independent UN expert and former UN Special Rapporteur on Torture, Manfred Nowak appeared with the state delegation and even spoke in defence of the State at the conclusion – I am not sure this is a good development for the UPR as I think independent experts should remain just that. It is certainly not something anyone I talked to has seen before at the UN.
I was sat down in the media section and about half way through the Review a Security Guard walked past and did a double take of my badge and then inspected it and told me I was not allowed to be in there. I inspected my badge for the first time, which read "62nd Session of CEDAW – Benedict Josef – Amnesty International". After some confusion as to how I'd got in and become an unintentional imposter and ushered out like a recalcitrant antipodean the Guards scratched their kind heads and directed me back to the Pregny Gate where I received the right pass and got back to hear Rwanda making recommendations for "Australia" until the Deputy President pointed out it was the review for "Austria" which the Rwandan delegate acknowledged and continued to make recommendations for Austria in the name of "Australia" due to pronunciation issues which provided some light humour for the worldly room.
I was highly impressed as to how courteous, efficient the session had been and how genuine the head of the Austrian delegation had been including relating personal stories of his family and friends regarding the importance of protecting the rights of asylum seekers and other vulnerable minorities.
Next was the Amnesty lunchtime Australian panel event featuring AHRC President Gillian Triggs, Social Justice Commissioner Mick Gooda, Les Malezer (National Congress of Australia's First Peoples), Damian Griffith (First Nations Disability Network)…