Data Retention Forum by Law Institute of Victoria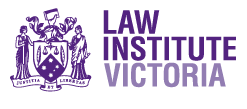 Date
Where
Lecture Theatre, Law Institute of Victoria
470 Bourke Street, Melbourne

What is metadata, what is at stake and what you can do about it?
The Privacy Workshop presents a panel of discussion and Q&A surrounding a controversial Bill, with three expert presenters moderated by LIV president, Katie Miller.
Telecommunications (Interception and Access) Amendment (Data Retention) Bill 2014 (the Bill) will require telecommunications providers to retain prescribed categories of data about all their customers for 2 years. The Bill has been referred to the Parliamentary Joint Committee on Intelligence and Security (PJCIS). The PJCIS is expected to table its report on 27 February 2015.
The panel will discuss the Bill and pose questions to attendees such as:
Do you know what metadata is in the context of the government's controversial data retention proposals?
Are you aware of how the Data Retention Bill 2014 will impact you and communications with your clients?
Have you thought about how data retention might not only intrude on privacy, but impact freedom of expression and association?
It is the LIV's position that the Bill should not be passed. This session provides an opportunity for the public and legal practitioners to ask questions and hear expert discourse on the Bill and its ramifications on the community. Attendees will be provided with resources to assist them in voicing an opposition to the Bill.
Panellists
Angela Daly – Research Fellow at the Swinburne Institute for Social Research
Chris Berg – Policy Director at the Institute of Public Affairs
Senator Scott Ludlam (participating via Skype) – Australian Greens Senator for Western Australia
David Watts – Commissioner for Privacy and Data Protection (Victoria)
This is a public event and will be free of charge.
Non members are to RSVP to register@liv.asn.au