Human rights lawyers call on Senate to reject Morrison's harmful deportation Bill
March 29, 2022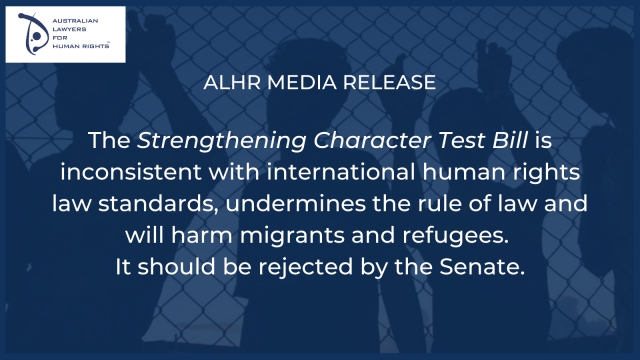 Australian Lawyers for Human Rights (ALHR) is calling on Senators to oppose the Morrison Government's heavily-criticised Migration Amendment (Strengthening the Character Test) Bill. The Bill failed to pass the Parliament before the 2019 election and was then blocked by the Senate in October 2021. ALHR says the Bill's proposed measures undermine our criminal justice system and are inconsistent with Australia's international human rights law obligations.
ALHR President Kerry Weste said, "This is a Bill that would see people who have been convicted of an offence, but who have not received a sentence of imprisonment, taken into detention and deported. It will disproportionately impact refugees and migrant families. Where persons subject to the proposed laws cannot be deported, they will be subject to arbitrary and indefinite detention."
"ALHR has serious concerns about the human rights implications of the Bill. As a signatory to the International Covenant on Civil and Political Rights (ICCPR), Australia is obliged to ensure all people are equal before the courts and tribunals. However, this Bill will reinforce a discriminatory regime whereby a visa holder may be more heavily penalised for committing the same offence as an Australian citizen. For example, where offending behaviour is not considered by a court to warrant a custodial sentence, the visa holder will be subjected to additional far more serious punishments such as removal from Australia or arbitrary indefinite detention."
Ms Weste continued, "ALHR is also very concerned that the retrospective nature of this Bill is at odds with both the rule of law and international law. Australia has obligations under the ICCPR to ensure that where a person is convicted of a criminal offence, they are not subject to a heavier penalty than that which was applicable at the time when the criminal offence was committed. The retrospective application of the proposed measures will clearly impose heavier penalties than were applicable to people at the time of past offences."
Caitlin Caldwell, Chair of ALHR's Refugee Rights Committee said, "Alarmingly, the Bill would also expand the cohort of people subject to arbitrary and indefinite detention in Australia. If passed, it will expose people to a decision-making framework that requires them to remain in detention until they are either granted another visa or removed from Australia, without any time limits placed on the length of detention. The United Nations Human Rights Committee has consistently held that this framework does not comply with international human rights obligations."
Ms Caldwell continued, "This Bill also undermines Australia's international obligations not to return non-citizens to countries where they face persecution or other serious human rights violations. Moreover, relying on foreign convictions, especially where refugee claims have been raised on the basis of political persecution, is a wholly unjust and unreasonable basis for cancelling a person's visa."
Ms Weste concluded, "The Morrison Government has not demonstrated that the measures proposed by the Bill are reasonable, necessary or proportionate. To expose a larger cohort of people to visa cancellation and refusal in the manner proposed by the Bill will do little to protect Australians and will only serve to negatively impact on the fundamental human rights of visa holders in our community."
Read a copy of ALHR's letter to Senators here
 Contact: Matt Mitchell, ALHR media manager 0431 980 365.