Budget climate action cuts threaten the human rights of all Australians
March 30, 2022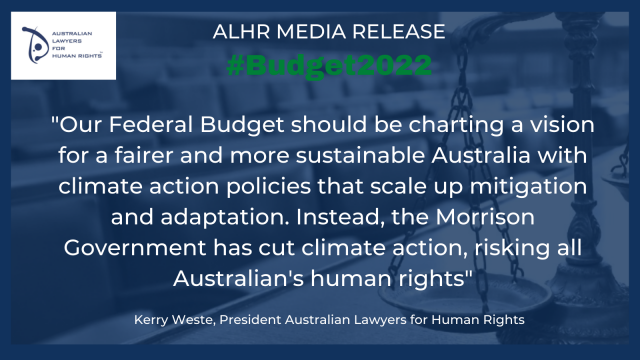 At a time when the human rights of Australians are directly at risk from climate-driven floods, bushfires and heatwaves, the budget has cut spending on climate action, with a reduction from $2 billion to $1.3 billion over four years (a cut of 35 per cent per year). 
During its current term, this Government has seen catastrophic bushfires, flooding, unprecedented bleaching of our Great Barrier Reef and the hottest years on record. Australia is the only G20 country that is trying to pull the plug on limiting global warming to 1.5C. In early March the Intergovernmental Panel on Climate Change (IPCC) Sixth Assessment Report (AR6) warned governments they must accelerate their climate mitigation and adaptation strategies. The science is clear, we are nearing a 1.5°C increase in global temperatures which will cause an imminent increase in multiple significant climate hazards. As a result, Australia can expect more extreme hot days, more frequent marine heatwaves resulting in increased cyclones and rain events such as the recent flood catastrophes in Queensland and New South Wales. 
Australian Lawyers for Human Rights (ALHR) President Kerry Weste said, "This complex and interwoven chain of events creates an imminent and serious threat to the human rights of all Australians. Fires and floods risk our right to life to adequate housing and to the highest attainable standard of health but the 2022 Budget does not address these critical challenges."
"Our communities need investment in climate mitigation and adaptation. Our Federal Budget should be charting a vision for a fairer and more sustainable Australia with climate action policies that rapidly scale up mitigation and adaptation while ensuring no-one is left behind. Instead, the Federal Government has cut climate action in this critical decade when we still have an opportunity to avert the worst of the climate crisis," she said.
Contact: Matt Mitchell, ALHR media manager 0431 980 365.