Australian women and girls with disabilities face pervasive and widespread violence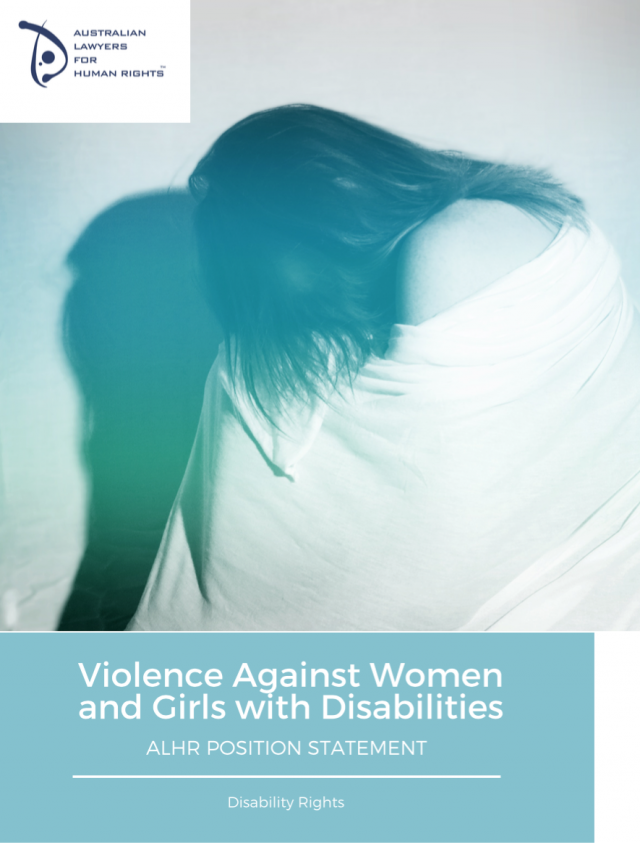 Australian Lawyers for Human Rights (ALHR) is pleased to release the third of four policy papers addressing Australia's international legal obligations to protect the rights of persons with disabilities. This third position paper to be published discusses the pervasive and widespread violence and abuse committed against women and girls with disabilities across a range of settings in Australia.
Susan Peukert, Co-Chair of ALHR's Disability Rights Committee said, "ALHR is deeply concerned about the pervasive denial of the right of women and girls with disabilities to live safely and without abuse within the community. When compared with the general female population, Australian women and girls with disabilities are particularly vulnerable to violence and exploitation which has a profound physical and psychological impact upon them."
International human rights law obliges Australia's to protect, respect and fulfil the rights of women and girls with disabilities, and imposes a duty to prevent violence against them.
Miss Peukert notes that, "ALHR is particularly alarmed by the barriers in access to justice and effective remedies that victims of violence who are women and girls with disabilities may face when reporting incidences of violence committed against them. These can include being viewed as less credible by police, prosecutors and courts. Women and girls with intellectual and mental health disabilities can face direct discrimination and experience less favourable treatment such as having their testimonies dismissed on the basis of a lack of legal capacity.
Australia is failing to adequately protect the human rights of women and girls with disabilities when it comes to violence, sexual and reproductive health rights, and discrimination. We continue to witness unacceptable incidences of not only physical and sexual violence but also abhorrent practices such as forced sterilisation and forced abortion. ALHR is alarmed that these practices continue to be used against women and girls with disabilities in Australia and calls on all levels of Government to take immediate action to prevent these human rights violations."
Miss Peukert continued, "violence against women and girls with disabilities violates international human rights norms, including the right to liberty and security of person, the right to freedom from torture or cruel, inhuman or degrading treatment or punishment, and the right to freedom from exploitation, violence and abuse. ALHR reiterates its long-standing call for a Royal Commission investigating violence against all persons with disabilities to be held as a matter of urgency."
The fourth and final position paper in ALHR's disability rights series relates to the rolling-back of community mental health services due to the transition to the National Disability Insurance Scheme will be released next week.
Read ALHR's position paper on Violence Against Women and Girls with Disabilities here
Media Contact: Matt Mitchell M: 0431 980 365 E: media@alhr.org.au