ALHR Statement on the situation in Myanmar
November 13, 2017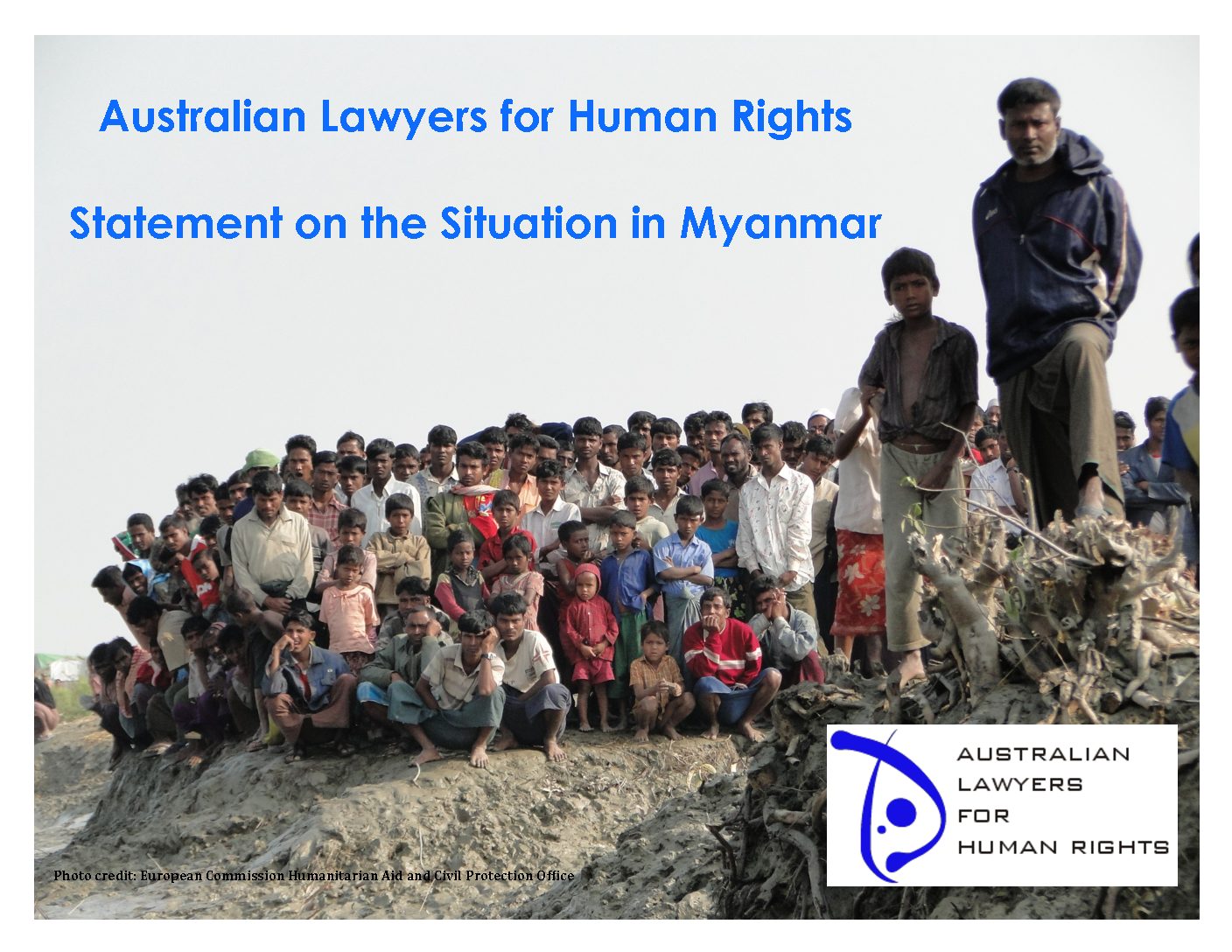 Australian Lawyers for Human Rights (ALHR) is seriously concerned about the situation in Myanmar's Rakhine state. To help Australians understand what is happening to the Rohinya population in Myanmar, ALHR has conducted a legal analysis applying International Humanitarian Law (IHL) and International Criminal Law (ICL) to the conduct perpetrated by the Myanmar security forces.
ALHR's International Humanitarian Law spokesperson, Hector Sharp said, "ALHR believes war crimes and crimes against humanity are once again being committed by the armed forces of a nation state in full view of the international community."
"We undertook this analysis with a view to establishing whether the horrific events occurring in Myanmar amount to war crimes and/or crimes against humanity."
"ALHR acknowledges that, because of restricted access to Rakhine state, the information coming out of the area is not independently verified. However, the statement released today canvasses an array of media and NGO sources as well as information provided by the Myanmar Government and the United Nations, " said Sharp.
"At the heart of IHL is the principle of distinction, which requires civilians and civilian objects to be distinguished from military targets. There is no 'flexible' approach to the application of key IHL principles. The use of force is unlawful if directed specifically against civilians, employed indiscriminately without distinction between civilians and military targets, or targeted at military targets but causing disproportionate civilian casualties."
"The sheer number of Rohinyga displaced (according to the United Nations, over 600,000 people have crossed into Bangladesh since 25 August 2017) and the stories they have shared with international media indicate gross breaches of the principle of distinction. In particular, ALHR notes the reported destruction of over 2,600 civilian structures, and the use of landmines, rape, murder and intimidation by the Myanmar security forces against the Rohinyga population."
"Applying principles of IHL and ICL, ALHR's statement concludes that there is a strong indication that instances of war crimes and crimes against humanity have been perpetrated against the civilian Rohingya population over the past several months."
"ALHR urges Australia's Minister for Foreign Affairs, Ms Julie Bishop to strongly condemn the Myanmar Government for its failure to prevent such atrocities."
Sharp said, "ALHR calls for the establishment of an independent inquiry into the situation in Myanmar with a view to bringing about the cessation of all actions against the Rohinygas, and collecting and preserving evidence of war crimes and crimes against humanity for any future prosecutions by the International Criminal Court."
Read the statement attached below
Media Contact: To arrange an interview with Hector Sharp please contact Matt Mitchell on 0431 980 365 or media@alhr.org.au
Photo credit: European Commission Humanitarian Aid and Civil Protection Office