Australia joins Rwanda as one of only two countries to have UN torture inspection terminated
February 21, 2023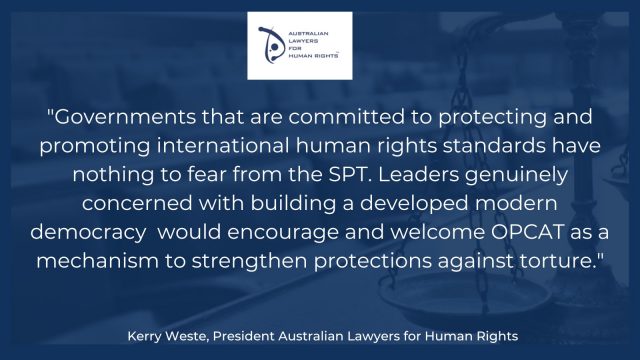 Australian Lawyers for Human Rights (ALHR) expresses profound concern that the United Nations Subcommittee on Prevention of Torture (SPT) has been forced to take the drastic measure of terminating its visit to Australia due to continued obstruction from New South Wales and Queensland while attempting to fulfil its mandate under the Optional Protocol to the Convention against Torture and other Cruel, Inhuman or Degrading Treatment or Punishment (OPCAT). 
ALHR President Kerry Weste said, "Since its establishment 15 years ago, the UN SPT has made over 80 visits to more than 60 countries. Australia now joins Rwanda as the only country where the UN SPT has decided to terminate a visit."
The termination of the visit follows its suspension last October after New South Wales refused to allow the SPT access to places of detention, and Queensland blocked access to inpatient units. While Queensland has since passed new legislation to allow SPT inspectors access to mental health units, ultimately neither state provided sufficient assurances of unfettered access to all places of detention. 
Ms Weste continued, "Coupled with Australia missing OPCAT implementation deadlines with respect to the establishment of a National Preventive Mechanisms (NPM), the termination of the SPT's visit places Australia in a very clear, ongoing, breach of its international legal obligations." 
"These failures not only leave those most vulnerable to torture, cruel, inhumane or degrading treatment or punishment at heightened risk within Australia, but also send a dangerous signal to other countries. How can Australia credibly promote human rights in the region and globally while in flagrant breach of our own obligations?
Ms Weste explained, "OPCAT is designed to protect the fundamental human rights of people detained in places including, but not limited to, prisons, juvenile detention centres, immigration detention centres, hospitals, mental health facilities, aged care facilities and facilities for people with disability."
The ability to carry out unannounced visits to detention facilities, conduct private interviews with people deprived of their liberty and review documentation is an essential element of the framework established under OPCAT.  
"ALHR therefore condemns in the strongest possible terms conduct that necessarily serves to obstruct or impede the preventive mandate of the SPT which is focused on a proactive approach to preventing the torture and ill treatment of vulnerable adults and children," Ms Weste said.
Governments that are committed to the protection and promotion of international human rights standards in places of detention have nothing to fear from the granting of SPT access to all places of detention, nor from the establishment of NPMs.
Such access enables the delivery of confidential expert recommendations to authorities that serve to strengthen protections against torture in their jurisdictions – an outcome that governments in a developed modern democracy, such as Australia, should both encourage and embrace.
The right to be free from torture is a non-derogable norm of international law. This means that it may never be infringed, no matter what the circumstance. OPCAT applies to all federal, state and territory governments without limitations or exceptions. It is therefore concerning that four years after Australia ratified it, so little progress has been made.
ALHR calls on all jurisdictions across Australia to reaffirm their commitment to the international rules-based legal system and where they are yet to legislate, commit to the urgent introduction of overarching legislation to translate Australia's OPCAT obligations into domestic law
Contact: Matt Mitchell, ALHR media manager 0431 980 365