ALHR Attendance at UN Forum on Business & Human Rights, Geneva November 2018
March 27, 2019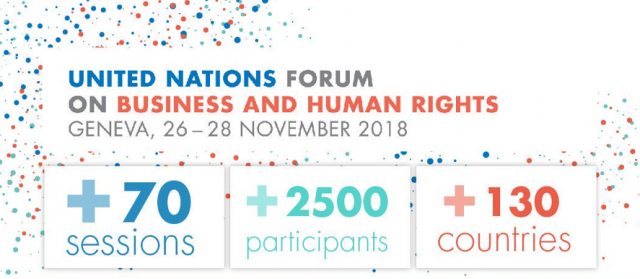 ALHR's Business and Human Rights Subcommittee Co-Chairs, Lauren Zanetti and Madeleine Bridgette attended the 7th Annual UN Forum on Business and Human Rights in Geneva from 26 to 28 November 2018.
The 2018 Forum, titled Business respect for human rights building on what works, involved around 2,500 participants from business, civil society, government, affected communities, academia and trade unions. The three-day Forum is the largest gathering globally on business and human rights (BHR) and involves an intensive and busy schedule of panels, presentations and workshops, with up to five sessions running at any one time.
The Forum stems from the adoption of the United Nations Guiding Principles on Business and Human Rights (UNGPs) by the United Nations Human Rights Council in 2011. The UNGPs set out States' duty to protect against human rights, including from businesses; businesses' responsibility to respect human rights throughout their operations including supply chains and victims' right to remedy. The Forum was established by the United Nations Human Rights Council to 'serve as a global platform for stakeholders to discuss trends and challenges in the implementation of the Guiding Principles and promote dialogue and cooperation on issues linked to business and human rights…as well as identifying good practices.'[1]
Top themes 
A major theme of the 2018 Forum was around the implementation and scaling of human rights due diligence, which is an essential component of the corporate responsibility to respect human rights under Pillar II of the UNGPs.
Some of the other (many) topics and issues covered at the Forum included:
Grievance mechanisms and achieving remedy for victims
The role of investors in shaping the BHR landscape through investors' increasing focus on human rights impacts of companies
The need to elevate and protect human rights defenders involved in combatting business-related human rights impacts in their communities
Corporate human rights due diligence – the state of play and way forward
BHR through a gender lens
How the UNGPs' three pillars of "Protect, Respect and Remedy" can be leveraged by governments, companies and communities to ensure responsible tax practice
What artificial intelligence means for human rights due diligence
Child rights and human rights due diligence in practice
Sessions summaries
 The attached report summarises the key takeaways from six of the more than 60 sessions at the Forum. These summaries aim to highlight the wide ranges of issues and stakeholders involved in meeting the challenges of the BHR agenda.
[1] Human Rights Council, Resolution 17/4 Human rights and transnational corporations and other business enterprises, Seventeenth session, UN Doc A/HRC/RES/17/4
(6 July 2011) at [12] https://undocs.org/A/HRC/RES/17/4