ALHR Submission ACT Inquiry: Right to a Healthy Environment
November 21, 2022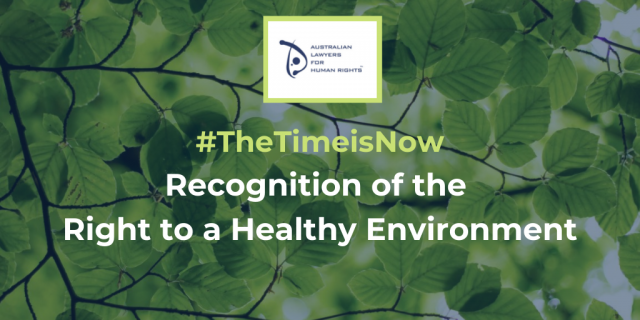 The ACT Government's Justice and Community Safety  Directorate is currently conducting a public consultation to inform consideration of a right to a healthy environment in the ACT Human Rights Act. Australian Lawyers for Human Rights ('ALHR') made a submission in relation to the Discussion Paper on the Human Right to a Healthy Environment ('the Discussion Paper'). This submission reflects ALHR's strong support for the inclusion of the human right to a clean, healthy and sustainable environment in the Human Rights Act 2004 (ACT) and ALHR's view that the right should be broadly defined to comply with international customary law and norms related to the right.
Since 2020 ALHR has been a member organisation of the Global Pact for the Environment, a coalition of over 1,300 civil society organisations and climate advocates from over 70 countries calling for the global recognition of the right to a healthy environment. 
ALHR is currently engaged in a joint campaign with GreenLaw on enshrining the right to a healthy environment in ACT law as well as nationally. This submission reflects upon, and is intended to supplement, that work.
Read our submission in full here