ALHR National Human Rights Conference 2017 Registrations

The inaugural ALHR National Human Rights Conference will be held on the 17th and 18th February 2017 at the La Trobe University City Campus in Melbourne.
We are very excited to announce that registrations are now open!
If you are an undergraduate or postgraduate law student scroll down for details of our student op-ed completion which offers the chance to win flights, accomodation and free conference registration!
Please see below for further details about the conference and how to register. 
We look forward to seeing you all there, and having your important contributions to Australia's practice and promotion of human rights.
Registration
About the conference
The Conference will bring together attendees from the law, academia, business and community sectors to examine highly topical human rights issues and strategically plan pathways forward for human rights advocacy and research in Australia. The Conference will bring a  unique blend of practical legal focus, education and discussion offered on varied topics including refugee rights, disability and freedom of speech. This is a must-be-at event for all lawyers, advocates and champions of human rights practising in Australia or internationally.
The conference objectives are to:
* promote international human rights and rule of law in Australia;
* encourage improved strategic planning and strengthen links between lawyers and advocates concerned with the protection and promotion of human rights;
* generate an on-going dialogue on topical human rights issues that impact upon Australia and beyond.
Check out the flyer: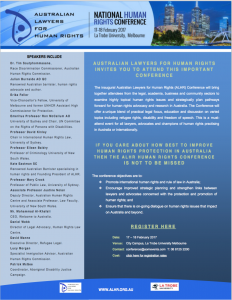 Please note that the program is not yet finalised and speakers will be added to the sessions as they are confirmed.
Registration
Places are very limited so please register early to avoid disappointment.
ALHR Members can access discounted registration rates. To join ALHR or renew your ALHR membership for 2016 click here
If you have any queries regarding the status of your 2016 ALHR Membership email us here
Student Op-Ed Competition – has now closed. Stay tuned for the winners to be announced!

ALHR is pleased to announce that we are offering 2 current law students the chance to win a trip to Melbourne to attend the ALHR National Human Rights Conference at La Trobe University in Melbourne on the 17th and 18th of February 2017.
Prizes will be given in undergraduate and postgraduate law categories.
Students should submit an op-ed piece of between 800 and 1000 words on one of the following thematic human rights focus areas of the conference:
– Refugee Rights
– Disability Rights
– Business & Human Rights
– Women and Girls' Rights
– Freedom of Speech
– Indigenous Rights
The 1st place applicants in each category will receive:
– free conference registration
– return economy airfares to Melbourne
– one night's accommodation up to the value of $350.00
The 2nd place applicants in each category will receive:
– Free 2017 ALHR student membership
– Free entry to an ALHR event* in 2017
Please send your entries to vicepresident@alhr.org.au
Entries close 5.00pm EST 25th January 2017. Late entries will not be accepted. 
Please ensure you include the following details with your entry:
–  full name
– email address
– the degree and university you are currently enrolled in
Conditions of Entry
Applicants must be currently enrolled in an undergraduate or postgraduate law degree at an Australian university and a current ALHR paid member. No part of the prizes are transferrable and no money will be paid in lieu of attendance, accomodation, flights or a 2017 ALHR Membership. * 2nd place prize free entry to an ALHR event excludes the ALHR National Human Rights Conference and the ALHR Fundraising Dinner.
Good luck – we can't wait to read your compelling pieces!
___________________________________________________________________________________________________
ALHR is very grateful for the support of La Trobe University, principal sponsor of the 2017 ALHR National Human Rights conference.
This partnership demonstrates ALHR's and La Trobe Law School's shared belief in the value of  human rights education for law students and the dedication at La Trobe to innovative, high quality legal education with a strong commitment to social justice and interdisciplinary enquiry, a global perspective and hands on experience.