ALHR ACT Hosts the Canberra Premiere of HOPE ROAD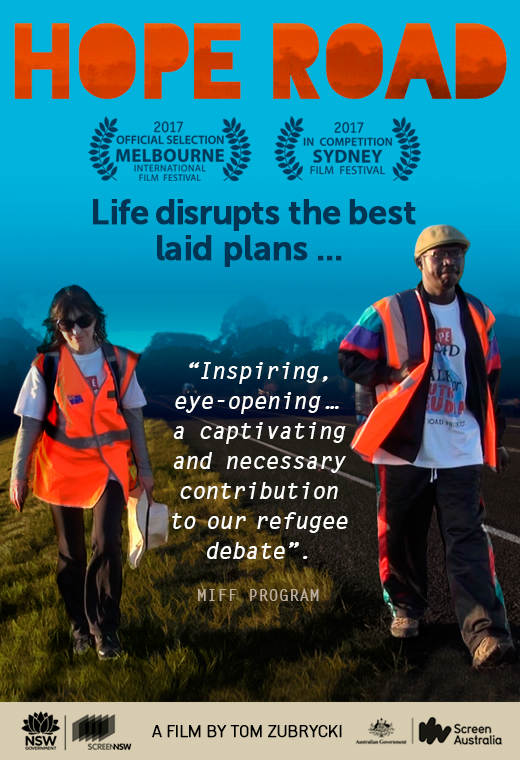 ALHR is pleased to support the Australian Premiere of the groundbreaking documentary Hope Road in Canberra on the evening of 13 September 2017.
An inspiring documentary Hope Road, made by acclaimed documentary filmmaker Tom Zubrycki is having a cinema screening in Canberra – after successful screenings at Sydney and Melbourne film festivals.
Hope Road is the story of Zacharia, a refugee from the Sudanese civil war, who desperately wants to do something for his village – now in the newly created nation of South Sudan.  Zac's dream is to build a much-needed school, and he enlists the backing of a group of dedicated Aussies who join him on a 40-day charity walk to raise funds for this venture.  But life disrupts the best-laid plans.
The film touches on important settlement issues.  Refugees when they are forced to leave their homeland don't just abandon it. They want to give something back and improve the lives of people they left behind. At the same time they want to build new lives here.  Zac is caught between these two worlds.
The Canberra screening will be at Event Cinemas, Manuka on Wednesday September 13th at 6.30pm.
Seats need to be booked a week in advance. Please reserve your seat here: https://tickets.demand.film/event/2039
Inspiring, eye-opening … Hope Road is a captivating and necessary contribution to our refugee debate from one of Australian cinema's most humane storytellers.  (Melbourne International Film Festival, program).